truax.org / Tom / Activities / Krazy Kardboard Kayak Race
[Article Text] [Photo Thumbnails] [View All Photos, caution, large file ~ 14 files, 3.2 MB]
Krazy Kardboard Kayak Race
Saturday, 7/12/08
Here are a few pictures from last Saturdayís main activity. We didnít clue in until Saturday morning about 8 am, and were a bit late drafting the plans, then making phone calls to round up our team before getting the kids, bikes, and swim gear into the van.
They only allotted an hour for construction, and we didnít get to the registration table until about 10 minutes after construction started. The packing tape was problematic without a dispenser. We lost the end of the roll more than a dozen times and burned at least 15 minutes trying to get it started again. We had to scale back our fabrication plan because we ran out of construction time, and we were still adding tape on the starting line.
All the boats in the adult heat sank. They werenít able to board without breaking them. The kidís heat did much better because we could take them out past the break and lift them into the craft. The plan was to have Noah and Tess crew the boat, but Tess balked during the wade out. We were last off the starting line, but Noah was a great peddler and almost caught the first place boat which was rounding the turn point as he got underway. If the race were a little longer, Noah would have won because he was twice as fast as the winner, but the winners did have a good solid and stable boat. Noah took second place out of three finishers. Everyone else sank. Noah gave a great podium speech at the awards ceremony, complementing his crew and noting how much fun he had.
Our boat held up pretty good despite having to abort on some of our structural enhancements, so we took the second crew out for a little surfing (Tess & Daniel). It finally failed when Dad tried to get in, so Sam didnít get his turn.
We followed up with a bike ride to lunch in the harbor, then out to the pier for taffy, then down hill biking at the college and back home for ice cream Sundays.
---
Join us TOMORROW for the annual Krazy Kardboard Kayak Race. It isnít too late to test your wits, design capabilities and courage by signing up a team for the zaniest kayak race around! The winner in each category will take home a cardboard trophy filled with goodies and a SBMM Family Membership! The Paddling Pro race winner will also take home a new kayak paddle donated by Paddle Sports of Santa Barbara!
Hope to see you there (participating or even just watching the fun unfold)!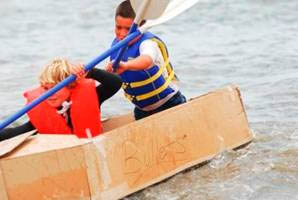 TOMORROW! Saturday, July 12: 10 am-1 pm
Krazy Kardboard Kayak Race
Presented by SBMM in Collaboration with Semana Nautica
$: $35 for a team of 4 people
Location: Just east of Stearns Wharf
The Santa Barbara Maritime Museum in collaboration with Semana Nautica hosts the annual SBMM Krazy Kardboard Kayak Race on Saturday, July 12th from 10 am to 2 pm. Teams of 4 are invited to challenge friends and fellow community members to a test of wits, design capabilities, and courage as each team attempts to create a functioning cardboard kayak, using only 2 4x8í pieces of cardboard, tape, a box cutter, yardstick and a marker (all included in your entry fee of $35). After an hour of vessel design on the beach just east of Stearns Wharf, competitors will parade over to the beachfront starting line to race their kayaks, finding out whose design can hold up under pressure and paddling. This yearís Kayak Race is divided into two heats, with prizes awarded to participants in both the Family Fun heat (geared toward family groups where kayak paddlers must be 14 years old or younger) and the Paddling Pros heat (geared toward adult and/or ďskilledĒ competitors). Speed will be the true test!
SCHEDULE OF EVENTS:
10-11 am: REGISTRATION (Sign in/up & collect all construction supplies)
11 am-12 pm: CONSTRUCTION (Build your own cardboard kayak!)
12-12:20 pm: BOAT PARADE (Parade your vessel around the waterfront)
12:20-1:30 pm: RACES (1st: Family Fun & 2nd: Paddling Pros)
1:30 pm: TROPHY CEREMONY
All kayak construction supplies are provided by SBMM. Life jackets & paddles will be loaned to teams courtesy of Paddle Sports.
This event is presented in conjunction with Semana Nautica, whose month-long summer festival brings visitors to the Santa Barbara waterfront for exciting beachside challenges each year. The Krazy Kardboard Kayak Race is no exception; drawing adventurous teams to the waterfront in an effort build team comraderie and bring home prizes and a coveted cardboard trophy. Recruit your family, friends, coworkers and neighbors, and come join us for a unique and zany water-sport challenge.