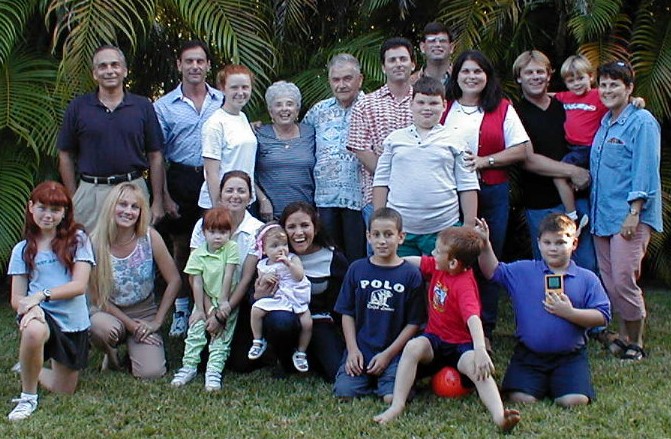 The Reardon / Blane Family / Thanksgiving 01
Back row: Chris, Tom, Melissa (Susie's oldest daughter), Mrs. and Mr. Blain, Mark
James (Cynthia's 8 yr old), Lennie (Cynthia's husband), Cynthia,
Pete McCoy (Diana's husband) with Thomas (their 4 yr old), and Diana
Front row: One of Susie's daughters, Chris' wife, Susie with her youngest,
Marcela (Mark's wife) holding Isabella (their baby) with Camilo (their son) sitting next,
then Russell (Diana's 7 yr old) and Joey (Cynthia's 7 yr old).
Absent from picture.. Paul.. Susie's husband, Chris's children (think they live in New Jersey with Celeste. I believe the twins are in high school and Victor probably 7th grade); Don't remember Mark's wife's name.. the little boy is hers from a first marriage. Diane's boys are in the red shirts. They go to Epiphany school.. and Diane lives in McGuire's old house on 84th St. Melissa is a freshman at Westminster (I think). They lived by the Duck Pond for years and the older two girls were in Epiphany, but now are down off Old Cutler around 160th St. Tom still lives in Gables and has a business there.. and Chris is north of Miami.. not sure where , as is Cynthia. Mark is an architect and lives in Miami.