[truax.org]>[Terry]>[Activity Log]
Terry & Laura's Trip to the Pacific Northwest in the Summer of 2010
Without Kids
---
Diving In Cold Water
Vancover Island, British Columbia
August 10, 2010
For the first time in about 7 years, Laura and I have taken a trip by ourselves. (Sumner ditched us for the summer and is now migrating for a week, we're told, across the Northeast feeding off the good graces of friends, cousins, and aunts & uncles; and Porter and Burnley are in Costa Rica on a church mission trip). In a very last minute move, we decided to head to the Pacific Northwest (Richard & Sally's backyard), specifically to Vancouver Island. We stayed in a in small place near Brentwood Bay, on the east side of Vancouver Island. Pretty awesome, as the photo taken from the porch outside the room will attest to (taken at low tide).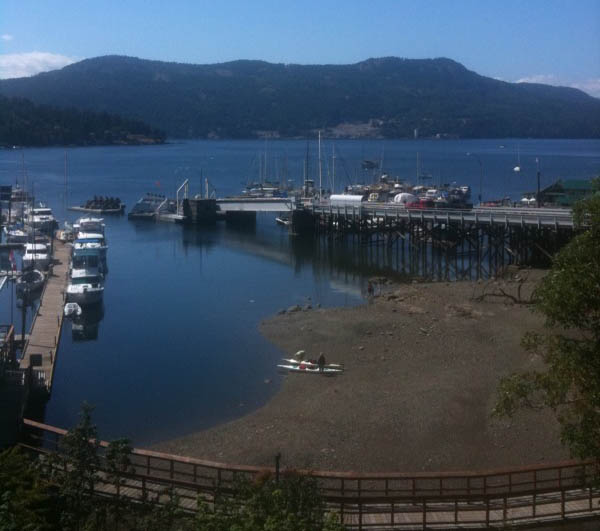 One of the reasons we chose this place is that they promote their scuba diving program. That's right, scuba diving in the Pacific Northwest. As a kid from Florida, there's a certain cognitive dissonance to the idea of jumping in water in places where it snows in the winter -- for example, we don't dive in Chicago. But, hey, we're adventurous so we figured we'd give it a shot.
Since I can't find my dive log, I'm using this email as my log. Read along if interested.
August 10, 2010. Saanich Inlet, McKinley's corner at Squally Reach, Vancouver Island, British Columbia. Beautiful setting. Although it's a bay, it feels like an alpine lake with fur covered mountains surrounding the bay. Not a lot of boat traffic. Flat as can be. Bright sun. Temps above the water felt about 72 degrees, and even warmer in the direct sun.
Temps in the water are a different story. Before we got on the boat, I was thinking 60s perhaps. Not even close. I was told the water was exceptionally "warm" this time of year. "Almost balmy." "Might be as warm as 54 degrees today," the dive master pronounced. Laura's mouth dropped and then stammered out, "don't people die of hypothermia at the temperature." Answer: "Yes, that's why you'll wear a lot of neoprene (i.e., wet suits)."
The wet suits were an ordeal. Most people who dive in cold water use a dry suit, which is a lot more comfortable to dive in (it literally keeps you dry, and importantly warm), but there's some additional skill involved because of issues with buoyancy, etc. Since we were only diving a few times, the dive instructor said confidently, "really, the wet suits will be fine, and it will be a lot easier." We took her advice. (In retrospect, I think she understood that Florida-bred divers aren't repeat customers).
What that meant was putting on "layers" of wet suit. We started with the basic suit -- thick as could be. Then the boots, then the hood, which was tucked under the first suit, then the next layer on top of the other suit, and then the gloves. We looked -- and certainly felt like -- overstuffed blubber masses. Then, after having squeezed and tugged our way into the wet suits, we then had the fun "weighting up." Given that we had covered ourselves in so much neoprene, we needed lots more weight to make sure we could get under the water. I had to add 36 pounds (normally I dive with 8 pounds) to my BC pack. (Laura, more svelte then me, of course, only needed to add 34). That's a lot of weight. Then, a backward flip into the water, and the feeling of being a "bobbing cork." The little bit of water that made it's way through the layers of wet suit was, well, "cold." But manageable at first. We did a buoyancy check -- in other words, we needed to test whether we would we sink. Laura was okay, but amazingly, I needed more weight, so they threw another few pounds onto my tank. Up to 38.
We then dropped down, first to about 25 feet, and then eventually to 65 feet. Visibility (bright, clear sunny day up top), was about 50 feet (maybe) (as compared to 100+ in the Caribbean). Not much color. Lots of kelp. Many different varieties of shrimp. And some very interesting mollusk-like creatures known as nudibranches. http://en.wikipedia.org/wiki/Nudibranch. Huge jelly fish on the first dive with very long tentacles, the kind that sting and leave a mark for a while. We stayed clear of those, but they were beautiful to look at. Saw a very large octopus (squid) in a cave/rock. Could only see one eye and many of the long tentacles. Interestingly, we also saw the food debris leading up to his/her abode. Lots of emptied crab shells lining the doorway to the cave. Laura later remarked that it reminded her of the story of the Minotaur. Lots of other crab life, and other small animal life. Schools of little (very little) minnows that almost created a cloud under water. But, no large fish. Biggest fish was some rock fish. We looked for a "wolf fish", which apparently can get up to 40 to 50 pounds, but we didn't' see one.
After about 40 minutes, it was starting to get cold. Very cold. We persevered for another 15 minutes, and at about 55 minutes (actually 58), we came to the surface, bobbing again like corks. We managed our way -- weight and all -- into the boat, shivering. When we hit the surface, the world turned colorful again on a bright, beautiful sunny day (which is not the experience I have when diving in the Caribbean, where the world underneath is more colorful in many ways than the world above.
We shivered some more, warmed up, and then moved dive spots closer to Brentwood Bay. This was a shallower dive and we were looking for squid. Laura, the total trooper, decided she would go down again. So, the same routine -- we "blubbered up" with all the neoprene. This time, the dive started by dropping down through about 15 feet of very dense school of "moon beam" jelly fish. It was magical falling through them. Very hypnotic. I found myself losing my sense of up/down while watching them.
Then back down to 50+ feet. This dive felt colder. Interesting walls, some crab life, lots of kelp, some coral crustaceans, but no soft coral. And cold, cold, cold. After about 45 minutes, we had had enough, and surfaced, again through the layers of jelly fish, and managed our way back into the boat.
Biggest challenge was diving with all the weight and neoprene. As the tank emptied, buoyancy became more difficult. Other challenge was the cold. If we were to do again, we'd train for the dry suits. I had planned to dive one more day, but after the two dives, I had seen enough, and, have had my fill of "cold water diving". Next year, it's back to the warm water.
Terry --
---
2nd email dated 8/15/10
I won't burden you with lots of emails about our trip. I know it's kind of like watching home movies. But, I thought you might still enjoy the short note/reflection below.
On our way home to Chicago from Vancouver Island, we stopped in Seattle for a few days. Very cool trip from Victoria to Seattle by Sea Plane (I'll debrief with you dad later), landing in Lake Union in what seemed to be a "get out of way, here we come" approach to the boaters below.
I know Seattle has a reputation for lots of rain/drizzle. Although that reputation must be well earned, given all the snow that still sits on top of the Olympic Mountains, (even though they are only 1000 to 1500 feet higher than Grandfather Mountain), it's apparently actually a fairly dry region in the summer, particularly in August. Everyday in Victoria, and each of our days in Seattle has been spectacular. Great views from the sea plane of Mt. Baker to Mt. Ranier, and the Olympic Mountains. The Pacific Northwest has clearly been showing off the last week.
It is one spectacular setting. I can see why Sally, Richard and Emilia are hooked, even if it does rain a lot in the winter. I won't bore you lots of details, but three highlights.
1. Lunch with Sally from the Seattle Truax/Hiserman garden. Richard and Emilia are in Texas. But Laura and I rented a car for the day on Saturday and stopped by Sally & Richard's house for short visit with Sally. Wonderful. They are living sustainably -- I just talk about it. They must have six rain barrels to feed their garden, yard, etc. And the garden actually feeds them (that means it feeds Richard!!!) in the summer with all of the vegetables, etc. Sally made a wonderful quiche and salad, with all the ingredients (other than the eggs and the milk in the quiche) coming from the garden. Wow. And I thought we were doing well by composting in Chicago. It was a great lunch, and very fun to see Sally, and their home, even though Richard was not there.
2. Richard's School. We drove all over the Seattle area, scoping out neighborhoods, homes, etc. A highlight was driving down 23rd Avenue to Garfield High School. Wow. This must be the flagship high school in the Seattle Public Schools. Sumner -- they have as "Quincy Jones Performing Arts Center", as their auditorium and then a "Teen Life Center." See the attached pictures. Very impressive. Equally impressive is that Richard rides his bike to school most days, I'm told. And Seattle is more hilly, I've concluded than San Francisco. (click on photos below for full size image)
3. Mt. Rainer. Again, we've had beautiful weather on this trip. And the Pacific Northwest has really shown off. We splurged a little on the accommodations in Seattle and stayed in a hotel downtown that has a great view from our room of Mt. Rainier on one side, and the Puget Sound and the Olympic Mountains on the other. See attached pics. But, Rainier shows off everywhere in the city, from the lawn at UW, to the many vantage points off Rainier Highway, to the vistas across Lake Washington (See photo taken on public dock, not far from Bill Gates' home on Lake Washington). Very, very cool. (click on photos below for full size image)
We head home this afternoon. To the Prairie.
Terry
Note: We managed (again) to go on vacation without a working camera. So all the shots are taken from the IPhone.